jazz • blues • rock • classical
piano instruction
Lessons are at my home in the
Lincoln Highlands area of Oakland, CA.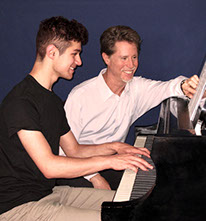 For the most part, I work with students who have
played the piano for two or more years. (This includes adults who haven't played in a very long time.

) We
can focus on:
improvising in the jazz, blues, and rock traditions;
playing favorite songs

studying

Play Jazz, Blues, Rock PIANO BY EAR

;

building piano technique, music reading skills, and
general musicianship;
exploring the classical piano repertoire
(up through an intermediate student level);
learning the art of practicing effectively;
grasping music theory as it becomes relevant to the
music at hand;
learning to work with chord symbols and lead sheets;
composing and arranging songs;
learning to accompany singers and instrumentalists
(jazz, blues, and rock);
learning skills related to playing in a band.
"Andy has a real gift for guiding and inspiring his students. It's also clear that he loves to teach."
— Khalil Shaheed
founding director of
Oaktown Jazz Workshops